FIRE OVER WATER
INTERNATIONAL WOMEN'S GATHERING
Thursday-Sunday, November 3-6, 2022
Mt. Madonna Center, Watsonville California
Facilitated by Deborah Allen, Sandra Pribanic and Miyuki Yamamoto
3 women, 3 countries, One Circle
"God is not always silent, and we are not always blind."  – Abraham Joshua Heschel
Dear women of our Tribe,
Three women. Three countries. One lineage – the longing to in alignment with The Great Love.
Please join us at the top of the redwood forests of California for a three-day retreat for women.
As all three of your facilitators work in depth psychology, energy work, and body-centered therapies, we long to meet all of you at this time that seems well described as "Fire Over The Water."
In our reckoning with Fire, we can feel the hearth, warmth, safety, sacred flame, ritual, cleansing. It also burns and transforms. Without Water, we have no Life at all. How can we deepen our awareness of our connection to water (70% of the human body to start) to ride the expanding and contracting rhythms that seem to move faster and faster?
We are so completely delighted to finally be at a time and place where we can gather and mend. We will share, sing, dance, sit in the redwoods, laugh untill we pee… It takes all of us to find our way home.
Mt. Madonna Center, Watsonville CA
Thursday November 3, 4 pm – Sunday November 6, 1 pm
Workshop fee $850 – payment plans available as always
Room and board choices at Mt. Madonna range from camping to double rooms at their beautiful campus in the redwoods
Click here to reserve your room (Mt. Madonna center registration)
Closest airports: San Jose and San Francisco
ABOUT US: Sandra, Miyuki and Deborah all met at healing schools that were tributaries of the river named for the work of Barbara Brennan, and then for The Center for Intentional Living. These two communities brought us our trust in the mystery as something that lives us, and in the power of dedicated, loving group work. Our women's circles have convened in The United States, Canada, Japan, Europe, Mexico and Africa. Meeting across cultures of all kinds has been the very heart of the matter.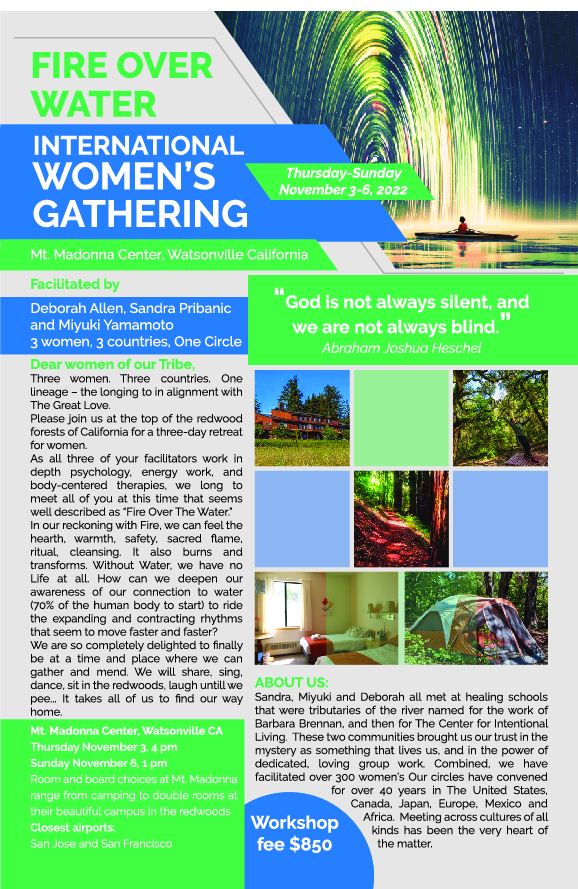 Please choose PayPal or
Venmo: deborah-allen-12
Or Zelle at deb@healersforum.com


Camping and day use for locals available.