Fight Like Your Life Depends on It. A weekend for women
A weekend with women and Impact Los Angeles
Learning how to defend and protect what is precious: YOU
Friday evening January 17th 6-9 pm IMPACT begins
Saturday and Sunday January 18-19th 9-6pm. IMPACT
Monday January 20th 10-4pm: Integration with Deborah
Los Angeles, California
Pay in full and receive one (1) private session with Deb!
Workshop Price $1000.00
Use PayPal to pay in full ($1000.00) and receive (1) private session with Deb, or reserve your place with a non-refundable deposit of $350.00.
This is the class that let me know I could continue to move in the world.
It made so many things more safe. I learned to witness the old limbic fear and support its transformation into vital energy and hope. This is one of the classes I would like to leave for you as my own wisdom legacy. I will be participating, and want you to know they make it safe whatever shape your body is in currently. I hope you can come. Love Deb
For $350 non-refundable deposit, payment in full due 10 days before event.
What Impact Looks Like: for a film
And one with our sister Becca that makes me cry
and one of my moments that changed my life
No pressure (:
Explaining a little about IMPACT and Deb fights

Our sister Becca fights.. makes me cry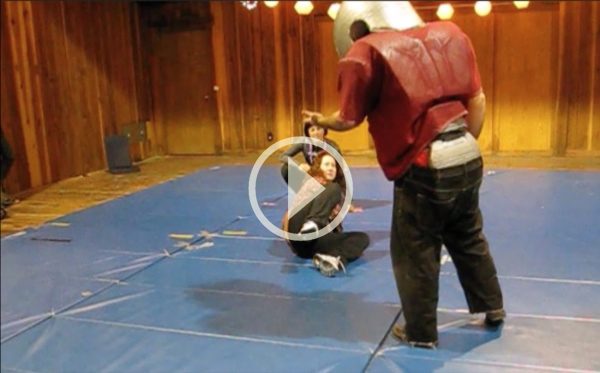 WHAT IMPACT SAYS ABOUT IMPACT:
In our flagship course, students will learn verbal and physical defense tactics that apply to a wide range of real-life scenarios including dealing with strangers and familiars (people you know). This class also focuses on awareness skills, avoidance, and target denial skills, and intuition as the key to personal safety. IMPACT's adrenaline-state, full-force training and layered teaching style ensures that the physical techniques are turned into "muscle memory" that will stay with the students for life. This class is applicable for anyone regardless of age, fitness level, or physical limitations and we work around existing injuries and disabilities to find techniques that work best for individual students.
This class answers these questions:
* What do I do if I'm grabbed from behind and taken to the ground?
* What do I do if confronted by a person who is angry? Or drunk? Or nervous? Or suave?
* How can I escape a pinned position?
Once students know that they can absolutely deal with all the above situations, life seems to flow a little easier. And, despite all the amazing physical skills IMPACT teaches, the best thing students gain is the understanding of how NOT to fight; and, instead, how to see trouble coming and avoid it, how to talk their way out of sticky situations, and how to maintain grace under pressure. The class is team taught by a female lead instructor and one of our padded assailants. This course is suitable for up to 16 students, teens and older.
This link has more info about our classes: www.kirklandproductions.com/impact-personal-safety.html
For $350 non-refundable deposit, payment in full due 10 days before event.
3 days of self-discovery. $1000.00
includes complete introductory weekend with IMPACT and a follow up integration session to reinforce and support the journey.
Let us know if we can help you with housing and transportation for our out-of-town participants
Payment plans available, contact:
Becca Hunnicutt
Hunnicutt_ar@yahoo.com
For questions about the program, contact:
Deb@healersforum.com or Becca